Welcome to another major update for BeamNG.drive — version 0.23 is here!
BeamNG.drive v0.23 The 2021 Summer Release update has been released! PBR Materials, Graphics Update, Gridmap v2, Pigeon Remaster, Ibishu Wigeon, Traffic Signals, Oil Simulation and Fixes & Improvements.
Welcome to another major update for BeamNG.drive — version 0.23 is here!
Expect to see a slew of upgrades throughout the game, as well as some brand new content and features. The new additions include a completely remastered Gridmap, the introduction of a new vehicle, some major changes to the render engine, and more.
Let's kick things off with the revamped Gridmap!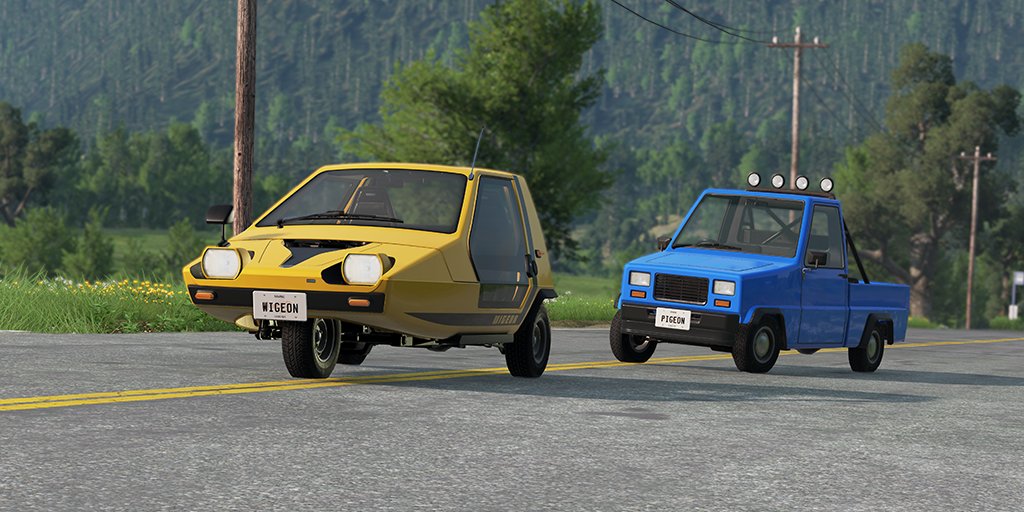 Gridmap Revamp
A little while back, we reached out to you, the community, for some ideas on how to improve Gridmap. Well, you delivered ideas and suggestions in spades, and now we're pleased to deliver a complete overhaul of the beloved map! There's a notable change in the overall visual style that still respects the look and feel of the original version.
Aside from visuals, Gridmap's layout and scale has changed significantly. We've split the map into 11 different zones, each with a designated purpose and theme including Offroad, Suspension, Handling, Rivers, and much more. As a result of these changes, the new version of the map is now four times the size of the original in order to accommodate these new zones. With that comes some added freedom to roam, as we've implemented some empty space and minor landscape elements to open up the map for an increased sense of exploration.
The original Gridmap level is available for download here.
Pigeon Remaster
Next up, we are proud to announce the long awaited remaster of BeamNG.drive's most well known bird of the flock; the tiny, quirky and hilariously unstable Ibishu Pigeon. The whole vehicle has been rebuilt from the ground up, sharing almost nothing in common with the old Pigeon. Completely new, highly detailed textures, 3D model and Jbeam structure all created to our most recent standards, as well as plenty of additions such as new 4-wheeled "Plus" models, a screaming 1.3L DOHC inline 4, new configurations, new customization parts and more.
Ibishu Wigeon
Not only does 0.23 include a remaster to everyones favorite 3-wheeled pickup, it also incudes the Ibishu Wigeon. The Pigeons lighter, sportier cousin. Featuring a shortened down chassis, lightweight fiberglass body and gas strut supported lifting canopy door, the Wigeon might seem more like something out of a sci-fi universe than something you would see on the road. Inspired by various Pigeon based kit cars and home-made sports cars, Ibishu developed the Wigeon in the late 1980s for European markets. Unsurprisingly, it was not particularly successful compared to the far more useful Pigeon, but carved out its own niche among quirky enthusiasts in Great Britain, its most popular market by a significant margin.
The Wigeon is available in two trim levels with 3 and 4 wheel versions, as well as sharing the same engine options as the Pigeon. 3 modified configurations are also present, for drag, track racing and off-road.
PBR Materials and Graphics Update
We've also been hard at work making the game feel even more immersive through significant improvements to the rendering engine. This includes the addition of physically based rendering, allowing for environments and objects to appear more true-to-life, especially from a lighting perspective. With that in mind, you'll be able to see updated textures across a diverse selection of assets. Here's a video showcasing just how much of a difference physically-based rendering makes.
A new Ultra mode, which enables Fresnel and specular color for direct lighting, has also been added.
It should be noted that we've experimentally implemented Vulcan renderer. At the moment it is still unstable, but offers promising upgrades to rendering speeds. Please see this announcement for more information.
Traffic Signals
We're very excited to introduce a traffic signal system, which comes with fully-functional intersections and signal controllers. This particular update also includes improvements to AI, such as making the East Coast USA traffic lights compatible with AI, and improvements to some police actions. West Coast USA intersections are still in the works, and we appreciate your patience!
Oil Simulation
Lastly, combustion engines will benefit from an improved oil simulation coming in 0.23. Oil is now simulated as a variable mass that can change over time due to external factors. We've also added support for breakable oil pans and radiators, causing oil to leak should either of them face any damage.
There has also been a reworking of the oil starvation logic, as well as support for oil starvation during cornering and jumping. You as the player will also need to adhere to safe minimum and maximum oil levels that should not be exceeded.
Fixes & Improvements
As usual, we're always looking to improve the existing components of BeamNG.drive. Starting with World Editor, we made some adjustments to Forest Editor, as well as some quality-of-life improvements to Scenetree. This includes cleaning up the UI for more clarity, as well as better gizmo drag behavior in grid snap mode.
When it comes to scenarios, we've added three new ones, remastered two, and completely removed scenarios that already exist as Time Trials. The new ones include Goliath, King Size, and Supercar Transport. The familiar scenarios that received the remaster treatment are Jump Course and Port Escape.
You'll also find plenty of bug fixes in the full patch notes to help enhance every part of the playing experience:
We thank you all so much for your continued support of BeamNG.drive and see you in the next devblog!
BeamNG.drive Steam

BeamNG.drive v0.23 – PBR Materials Preview video and a few in-game screenshots with new graphics
BeamNG.drive announces PBR Materials and Graphics Update is upcoming with v0.23
Simuway