FS 22 – Fendt Vario 900 Black Beauty has been released
Fendt 900 Vario Black Beauty for Farming Simulator 22 was sent as a gift to Farming Simulator Survey participants.
Price: 280,000 Dolar
Engine Power: 218 kW / 296 hp
Gearbox: Variable (CVT)
Fuel tank: 625 litres / 70 litres AdBlue DEF
Speed: 60 kph
Weight: 13.4 t
Tires: TM1060 Trelleborg and much more
Author: GIANTS Software
DOWNLOAD HERE
We can now access a product by activating the key on the Downloadable Content page.
You can redeem it in-game by clicking on "Downloadable Content" in the main menu. On the "Extra Content" tab, you can enter the code, and it will be automatically downloaded.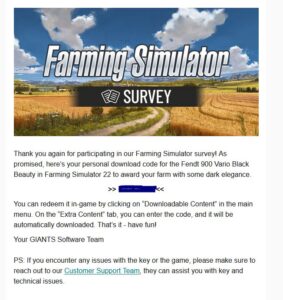 If you have participated in this survey, check your inbox.

(Don't forget to also check your spam filter, just in case 😉 ) https://t.co/nSsXzXY0zV

— Farming Simulator – Now Available! (@farmingsim) December 3, 2021